The client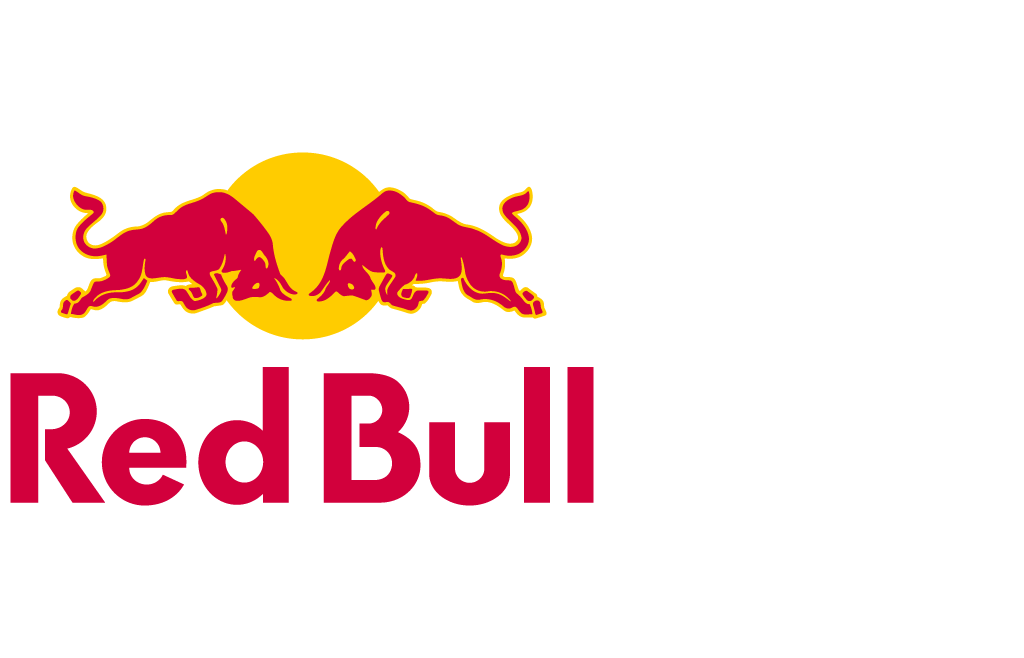 Red Bull is the world's best-selling energy drink. Inspired by the idea of functional drinks in the Far East, Dietrich Mateschitz launched Red Bull in Austria in the mid 1980s. Soon a new category of beverage took the world by storm – energy drinks.
The brief
We were asked to conceptualise, design and produce a gift that Red Bull sales representatives (or Muskateers) could take to outlet owners to convince them to stock Red Bull on their premise.
The gift needed to be sustainable, customisable, premium and relevant.
We presented a few options, but this one was my favourite.
The creative solution
Everyone is trying to do their part by minimizing their social activity – but that doesn't mean our Decision Makers can't bring the adventure home.
We propose bringing them some Red Bull-style lightness, fun and highly relatable entertainment with an interactive board game that they can enjoy with their families or housemates. Our game will relate to their lifestyles using scenarios that align with their hospitality industry backgrounds.
How?
A 4-pack of Red Bull. 4 players. And a twist on one of the world's favourite old timey classics: Monopoly. Our version will be supercharged with South African references, humour, and insights.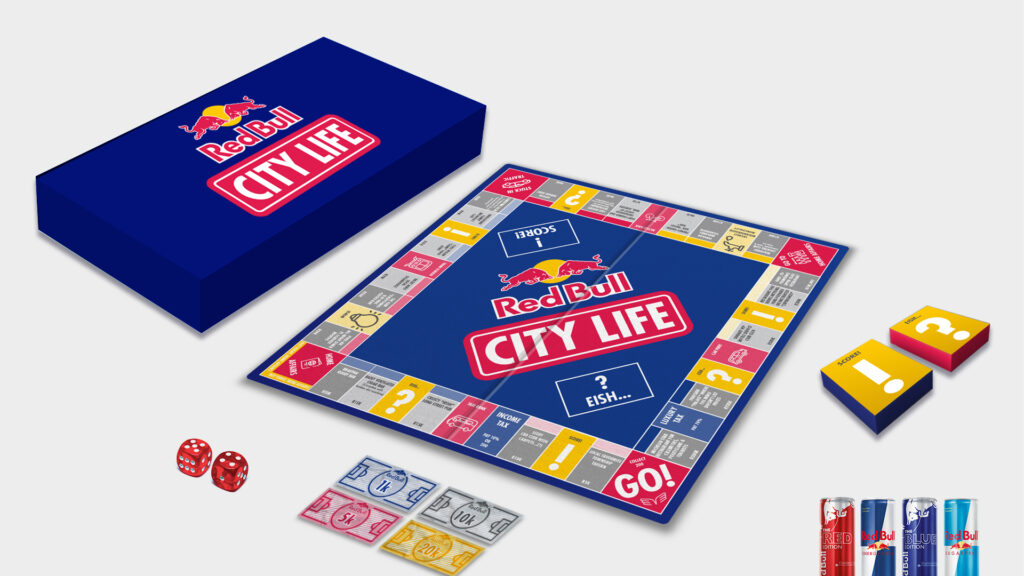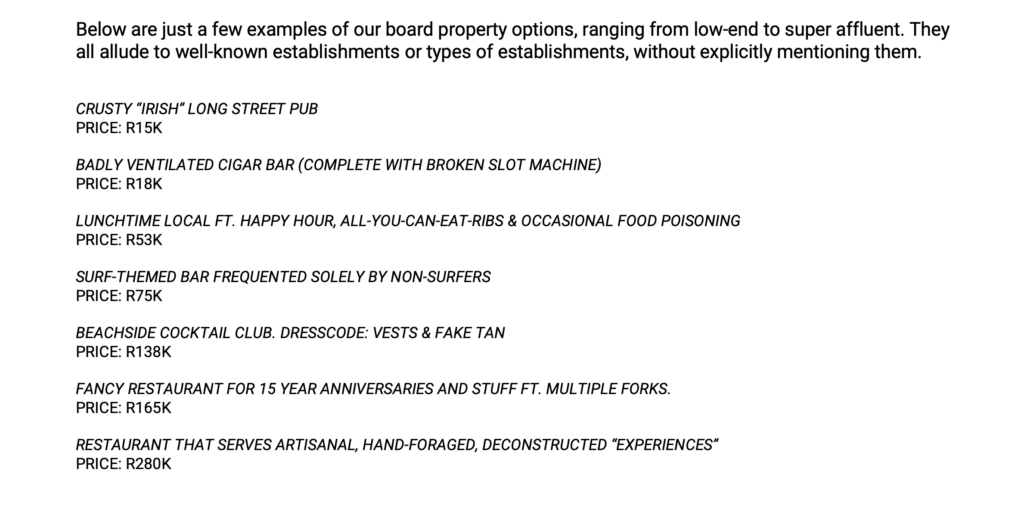 Copy credit: Amy-Lee Tak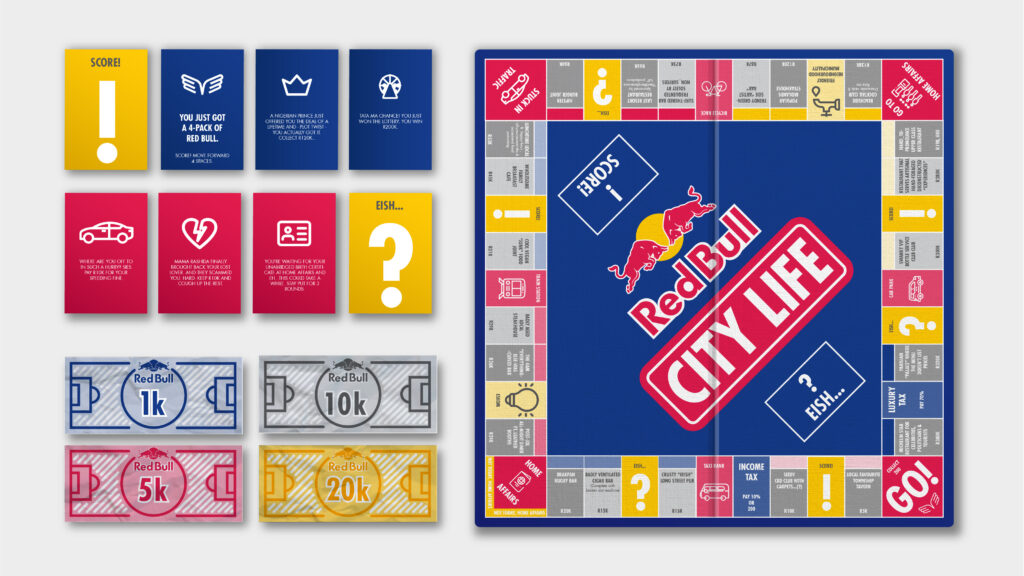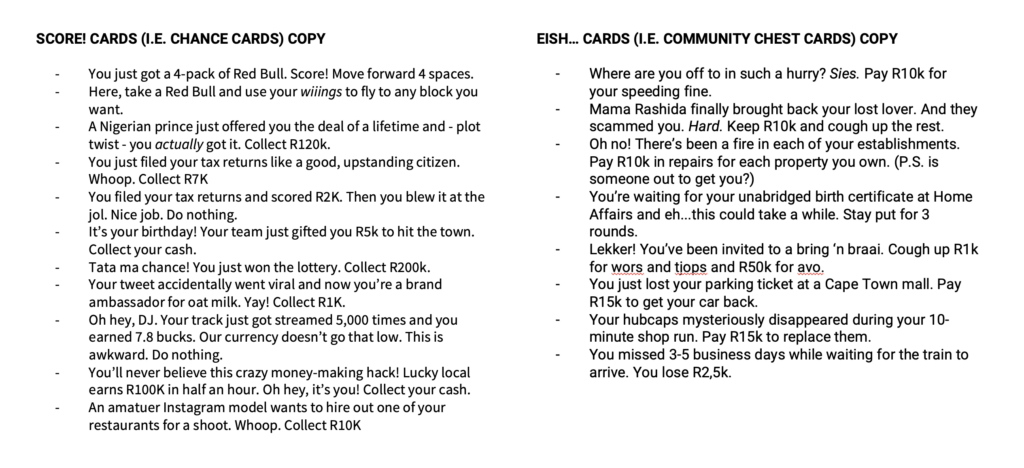 Copy credit: Amy-Lee Tak
My role
Working with a talented copywriter, I conceptualised and brainstormed creative solutions for this brief. Once we had settled upon the "Big Idea", we got to work fine tuning the game mechanics and South Africanisms. I focused on taking an old staple – Monopoly – and giving it a Red Bull makeover that was both eye-catching and fun.
Red Bull's bright limited colour palette lent itself perfectly to a game-format. I sneaked in some reference to the brand's high involvement in sports in the visual elements – from the field markings on the game currency to the use of red, blue and yellow cards.
I worked not only on the flat layout desgn but also needed to create mock-ups for the presentation to sell the idea to client.
Credits
Agency: Machine_
Copywriter: Amy-Lee Tak | Designer: Katya Wagner | Copy Group Head: Mawande Sobethwa | Design Group Head: Gareth Owen | Executive Creative Director: PJ Eales | Senior Account Manager: Nazeema Dramat | Senior Account Director: Nasheeta Khan
Please follow and like us: